A very special Atelier pour les Ados!  12 à 18 ans  Les Mercredis 14h00-15h15
Yoga for Teens 12-18 years, Wednesdays 14h00-15h15
Pour la rentrée, guidé par Michelle
Bi-langue, in French and English
Session octobre 2014: 3 cours
Mercredi 1, 8, 15 octobre
Session Novembre 2014: 3 cours
5, 12, 19 novembre
Prix par session 45 euros.  Prix pour 2 sessions: 80 euros
******************
Course Title: A Journey thru the Chakras  November 8 and 9, 14h00-17h00.  A very special workshop with Ram Vakkalanka.
Chakras are the subtle Energy centers in us that influence all aspects of our lives, health and well-being – physical, mental, emotional and spiritual. Chakras are storehouses of power and hold the key to unleashing the best and the highest potential in us. Cleansing and balancing the Chakras can have a powerful, rejuvenating impact on us. In this workshop, we will explore the seven principal Chakras in the body, their areas of influence, their imbalance and balance and some techniques to balance the Chakras. This workshop involves meditating intermittently to Chakra balancing music. Come prepared by wearing loose and comfortable clothing.
Course Title:
INNER HEALING THRU THE SACRED SOUNDS OF SITAR: A WORKSHOP ON NADA YOGA
Nada Yoga is one of the most effective ways to balance the Chakras, remove mento-emotional energy blockages, gently carry the mind to a tranquil state where inner healing becomes possible. Nada Yoga is a wonderful confluence of the science of Yoga and the art of Music. It helps us rise above the cacophony of the negative thoughts in the mind, go deeper into the heart and discover the inexhaustible source of inner strength and peace there.
This workshop involves intermittent guided meditation to the accompaniment of the sacred sounds of live Sitar. Please dress comfortably.
Bliss guaranteed!
Intro of Ram Vakkalanka:
Ram Vakkalanka is an internationally known Nada Yogi, Sitar artist, Yoga philosopher, Meditation teacher and Sanskrit expert. Ram is a Master of sound energy and vibrations. Ram belongs to the musical lineage of Maestro Ravi Shankar and specializes in playing healing and meditative Ragas on the Sitar. So far, ten CDs and one DVD of his works have been released. His music is used by Chiropractors, Acupresurists and other healing practitioners in their sessions for its soothing quality. In Ram's hands, the musical notes become Mantras and create vibrant, energetic and peaceful ambiance.
For a video of Ram explaining the art and science of Nada Yoga, visit http:// www.youtube.com/watch?v=wrHj26wfcbQ.
To find out more about Ram or see sample videos of his concerts, please visit his website www.aksharayoga.com.
Ram presents music from a unique perspective and its soothing quality truly enthralls the audience.
While it is recommended to take both courses as a series to get optimum benefit, each course is so constructed that participants can attend either of them and still benefit.   45 euros each session or 80 euros for the weekend.  Payment in full by October 1.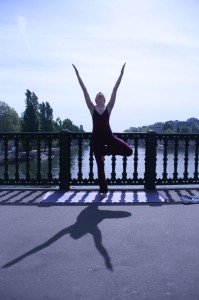 Yoga Getaway Paris!