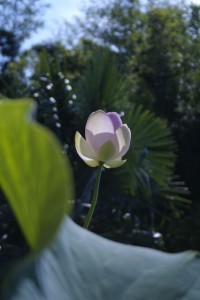 Detox Workshop with Michelle, 10 Jan 13h30-16h30  40 €
Dear Everyone, (en français dessous)
It's a new year and a great time to not only purify the body from the excesses of the holidays, but to also examine where our thoughts are sitting or stuck, to gently encourage them to embrace something new and up-lifiting. Purifying our environment, getting rid of old habits and old things that are not serving us anymore is a New Year's tradition. Little things we can do for our practice like cleaning our mat really well and creating a clean space at home and at our work uplifts our mood, too. All these little gestures not only clean the environment but clean psychic space as well.  What else can we do?  Observe our purchase power and the choices we make in the packaging that will be tossed away.  Connect with our deepest selves and ideals, please see the workshop below, Nada Yoga with Philippe.  A bientôt!  Namaste, Michelle
Chers tous,
Mars est le mois que nous attendons pour voir le printemps arriver. c'est aussi le mois associé au vert, aux bourgeons et à ces nouveaux départs. Votre esprit va sortir de l'hibernation, et va vous envoyer des messages, très probablement pour changer des choses.
Bonne année!  Il est aussi un bon moment pour purifier simplement le corps, examiner là où nos pensées sont posées, et les encourager à aller de l'avant.
Purifier notre environnement, sortir des vieilles habitudes et de toutes ces choses qui ne nous aident pas sont dans la tradition de l'approche du printemps. Il y a toutes ces choses que nous faisons pour nettoyer et faire de place nette autour de nous (maison, travail), et cela réveille notre humeur.
Toutes ces petites choses ne nettoient pas que ce qui nous entoure, mais aussi notre espace psychic.
Comment en faire plus ?
Il y aura davantage d'ateliers cette saison d'hiver (voir dessous) et je recommande vivement de compléter votre pratique par plus d'information.
***********************************************
23/24 janvier
23/24 janvier
Nada Yoga, The Yoga of Healing Sound with Philippe Garner
Day one, Saturday January 23rd, 2016
2pm – 5:45pm,
1) 2pm-5:45pm
-Principal Application of Sound Healing / Sonotherapy / Medecine vibratoire
-Nada Yoga followed by bhakti yoga
-Shruti Song
-Practice time and gong yoga
2) 6pm-7:30pm
-Sound Healing Concert, Gong Bath for the group.

Day Two, Sunday January 24th, 2016
1) 2pm-5:45pm
-How to incorporate Sound Healing during Asanas
-Crystal Kingdom:
– History, Atomic structure, sacred geometry
2) 6pm-7:30pm
-EVENING SOUND CEREMONY:
Sound Limpia with Air + Fire
Condor Medicine:
Flutes Feathers, Palo Santo Limpia, Sweet Grass.
45€ each session or 80€ for the whole weekend.  Includes concerts.
Concert only each night 20€.
Gratitude!!!
Philippe Pascal Garnier ॐ
SAGE Academy Of Sound Energy
www.sageacademyofsoundenergy.com
facebook Philippe U.S.A.
facebook Philippe France
USA: 845-679 5650
France: 07 54 80 59 53
************************************************************************
Teachers please contact me.Special interest for groups.  Parents and
Atelier pour les Ados! 12 à 18 ans.   Les Mercredis 14h00-15h15  Sur RDV
Yoga for Teens 12-18 years.    Wednesdays 14h00-15h15  By appointment
Pourquoi yoga pour ados? Les postures et les techniques de respiration du yoga stimulent la confiance en soi-même en réévaluant la voix interne de chacun.
Il augmente la conscience émotionnelle et développe la liaison émotionnelle pendant une période où les émotions peuvent être ressenties parfois d'une façon tumultueuse.
Il développe les liaisons réciproques avec les autres, l'environnement naturel et avec soi-même bien-sûr. Il nous ouvre à des plus grandes qualités de gentillesse, compréhension et non-nuisance.
Bénéfices mentaux: le contrôle du stress fournit des techniques de réorientation de la pensée et de relaxation du système nerveux.
Prise de décision: concentration, correcte image de son corps, acceptation et curiosité.
Bénéfices physiques: force, flexibilité, amélioration de la posture, capacité de relaxation, conscience de respiration, stabilité, équilibre.
Why yoga for teens? Yoga through postures and breathing techniques encourages self-trust by valuing one's internal voice.
It heightens emotional awareness and cultivates emotional connection in this period when the emotions can feel tumultuous at times.
It cultivates interconnectedness between ourselves, others and the natural world around us. It opens us to greater qualities of kindness,
compassion and non-harming.
Mental benefits: stress management-provides techniques for redirecting the thoughts and calming the nervous system. Decision making, concentration, healthy body image, acceptance and curiosity.
Physical benefits: strength, flexibility, improved posture, ability to relax, breath awareness, stability and balance.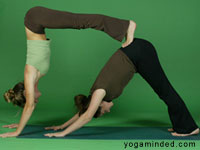 "I'm so happy that I started to practice yoga when I did, and even more so that it was at the Centre de Yoga du Marais. As a teenager who plays sports, I became so much stronger once I started doing yoga. It is great cross-training for any sport and not only helps one tone one's body, it also helps one tone one's mind and emotions. Michelle  explains during her classes how the breathing techniques and different postures benefit ones emotions, makes one feel more in tune with their surroundings and nature, and teaches one about self-awareness. She is very welcoming and accommodating and genuinely takes the time to get to know her students. It was a fantastic experience and initiated the growth of a lifelong passion for yoga within me."  Maia
 
********************************************************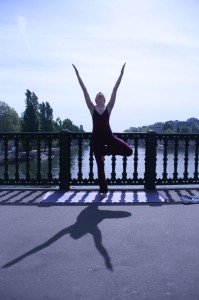 Yoga Getaway Paris!
tba