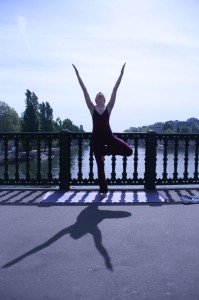 Yoga Getaway Paris!
Dates for 2014 Friday, August 1 – Friday, August 8
Welcome cocktail on Friday evening, August 1. Classes begin Saturday morning, August 2.
Dates for 2014.   Friday, August 1 – Friday, August 8.
 • For any who would like to combine a trip to Paris with a week-long yoga intensive, I make my studio available for a week long workshop just for us. I can give you tips on how to enjoy Paris like a local, advice on where to stay, shop, and eat (great veggie restaurants), cheap theatre and movie tickets, etc.  I am excited to share my favorite month in Paris and my experience of 12 years living here.
* Twice daily yoga classes.
* My assistance in booking rooms for you in the neighborhood of the Yoga Center or a neighborhood of your choice.   You can also look for apartments to rent and share.
* Tips on how to save during your stay here through metro passes, museum and theatre passes.
* Maximum 15 participants.
CLASS SCHEDULE
Mornings 9-11am Hatha Vinyasa, Day free to explore Paris.
Evenings 6-7:30pm.  Your evening free to enjoy Paris by night.
Cost:  300 euros for 7 days.
Price does not include airfare, transfers or accommodation.
Bookings can be made through the contact page on this website.
You can view the full flyer on my linked in  profile:
http://www.linkedin.com/profile/view?id=52667254&trk=wvmp-profile
IV- MASSAGE AYURVÉDIQUE DU CORPS «ABHYANGA»
Dates 8, 9, 10 et 11 juillet 2014
Horaires 9h30 – 12h30 / 14h – 18h
Tarif 540€ (huiles, manuel détaillé et certificat de présence inclus)
Tarif de l'examen pour obtenir le diplôme en massage ayurvédique du corps : 60€
NB Ce cours intensif est animé par Moses Chundi et le DR ANIL, médecin ayurvédique du Kerala, (possibilité de consultation le 12/07/2014)
LIEU DES STAGES
Renseignements & inscription