Atelier pour énergie
1 octobre, atelier de dimanche 13h30-16h00
Un atelier-energie pour automne.
Les ateliers du dimanche reprennent avec un atelier avec Michelle
Avec le changement des saisons, venez passer 90 minutes de pratique detox pour apprendre à mieux évacuer stress et tensions… L'occasion d'apprendre à focaliser sur l'énergie dans le corps, et cela sera suivi d'une heure de Yoga Massage
The first workshop of the season is a mind/body detox to help us through the change of season. After a moving and cleansing practice we drop into the surrender of a Yoga Massage. These tools will help your home practice all season long!
Le date: 1 octobre L'heure De 13h30 à 16heures Le prix: 35 euros. Réduction 30 euros si vous payez avant le 1 octobre. Michelle Jacobi
Centre de Yoga du Marais 72 rue du Vertbois, 75003
********************************************************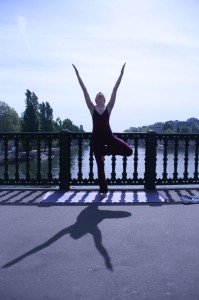 Yoga Getaway Paris!
"I'm so happy that I started to practice yoga when I did, and even more so that it was at the Centre de Yoga du Marais. As a teenager who plays sports, I became so much stronger once I started doing yoga. It is great cross-training for any sport and not only helps one tone one's body, it also helps one tone one's mind and emotions. Michelle  explains during her classes how the breathing techniques and different postures benefit ones emotions, makes one feel more in tune with their surroundings and nature, and teaches one about self-awareness. She is very welcoming and accommodating and genuinely takes the time to get to know her students. It was a fantastic experience and initiated the growth of a lifelong passion for yoga within me."  Maia
Le centre de yoga du marais est pour moi le lieu précieux de retour au calme et d'énergie retrouvée. La transmission de Michelle et son équipe d'un yoga intégral est de grande qualité. C'est un vrai partage et un vrai repère! 🙂   Hélène